We are a social cycling club, based in Oakley, Hampshire near Basingstoke.
In 2007 a couple of cycling enthusiasts organized a bike ride for people in the Oakley community. This proved successful so a regular ride was setup. As the interest for an organized local cycling group grew, the leadership team expanded, thus the Oakley Pedalers were formed.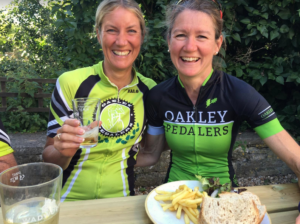 Our philosophy is simple. To get people of all ages back into the saddle to rediscover the pleasures and benefits of cycling within the company of a small, informal, friendly group. We cater for all comers and organize family rides, local adult rides, ladies group rides, on and off road routes, as well as more strenuous weekend away special rides. We now have a regular group of riders, meeting weekly and monthly for our standard rides as well as for our 'specials'. See our Calendar and Seasonal Program pages for more information.

So if you have been looking for a reason to get the bike out of the back of the shed, dust off the cobwebs and get some fresh air and exercise, then we warmly welcome and invite you to come along and give the Oakley Pedalers a go!
We are based on the village of Oakley in North Hampshire approximately 5 miles west of Basingstoke. Oakley Lane, Oakley, Basingstoke, RG23 7JY