2015 Away Weekend Review
Friday 2nd – Sunday 4th October 2015
It is nine O'clock, Friday morning and the time is right to head west. The autumn sun is shining, not a whisp of cloud only blue skies. Seven OP's meet at Basingstoke station and caught the train, with their bikes, heading for Dorchester. At the same time six OP's set off by car for Beer, a small Devon seaside and fishing town, again with their bikes. Though these were not the earliest of birds that morning. Up and on the road in the crisp morning air were two intrepid OP's, already en-route and cycling the 120 miles from Basingstoke to Beer.
Later that day 13 meet up in West Bay, Dorset for lunch and then cycle back over a few mahoosive climbs to the Beer YHA. They join up with the Dave Wrey and Paul Simpson who put in an impressive time on their ride from Basingstoke. A further seven OP's arrived in the evening dusk after travelling to Devon post their working day. The annual away-weekend was in full swing.
That evening we split between the Beer curry house and Dolphin pub for food, moderate imbibing and conversation in preparation for Ed Beckman's planned Saturday routes. For most of us after sampling some of the terrain already there was a mix of excitement and trepidation for what could be in store the next day. An advanced route [85 miles & 8,000 feet of climbing] and a standard route [66 miles & 6,500 feet] were on offer, both described by Martyn K as "binary rides".  As in you were either going up, generally a 10 – 20% gradient. Or coming down, with precious little in-between. To be pragmatic about it, that's Devon!
Apart from Stuart Beardall who didn't sleep a wink, he'll never eat a pre-ride vindaloo again, everyone seemed to have enjoyed a good night's sleep in the YHA.  Albeit there seemed to be a few nervous faces as we got on the bikes at 09:00 and decided who was riding with who, the trepidation overpowering the excitement for a moment.
Ten enthusiastic riders set off on the advanced ride with the remaining eleven on the standard route. With both rides criss-crossing at certain points in the day we were bound to meet up, and indeed we did.  The standard route descending into Broadhembury at the same time as the advanced were hauling their sorry selves up the 17% gradient that kept on giving.  The standard riders thus ensuring they got to the cafe stop before the others, preceded to scoff every crumb of cake. The advanced riders were ready for a heartier feed after over 1100 meters of climbing during the first 37 miles!
By now the pre-ride nerves had gone, replaced with ear to ear smiles which stayed for the rest of the day. Like Friday the sun was shining for the whole of Saturday and all the Pedalers, regardless of ride level, were discovering that everything was possible. Especially true when in the company of your cycling chums, whose support even on the steepest climbs was unwaning. Which was just as well as the weekends signature climb The Beast of Devon, aka Salcombe Hill [number 12 in the 100 Greatest Cycling Climbs book] awaited. 1,300 metres in length and reaching 20% on the upper slopes with an average of 13%, just what you need from a standing start right turn. The 'good book' reckons upon between 8 – 10 mins of quad burning purgatory with no shame if you needed to hop off as the hill did its' worst. As it happens the book was about right, but what it did not prepare you for was the facial muscle ache from the gurning during every pedal stroke.
Atop of Salcombe Hill the mood was buoyant. We had conquered The Beast and there was only 4 miles left to Beer, both physically and metaphorically. However, Branscombe stood in our way. A descent in to the tiny port village followed by a sharp climb out. Although not as long as The Beast we had just conquered, the climb out of Branscombe had equally sharp teeth. As the advanced ride crested that final climb the standard route riders could be seen heading down to Beer. Everyone finishing an epic day together, just as we had started out.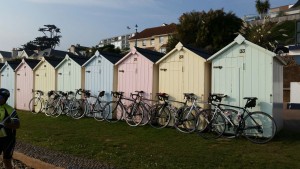 That evening we sat together in The Angel Inn for dinner. A happy buzz of conversations and "war stories" filled the air. The OP mood definitely more upbeat than the regular patrons watching England capitulate in the Rugby World Cup. Ian Ross captured the mood with his speech as club secretary perfectly. He picked up on that sense of achievement and fun that comes from taking part in a shared activity. An activity that regularly takes us outside of our normal comfort levels and shows us just what we can do.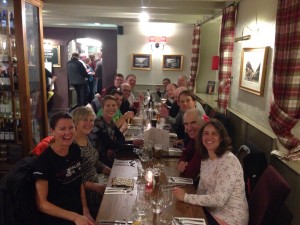 Slowly everyone retired to bed. Some deciding that a couple of 'top shelf' night caps would ease the tired legs. I'm not sure of the medicinal qualities of spirits but it was a hard day so i wasn't going to argue.
Sunday was a "Pigwich" sort of day. With most electing for a shorter day hoping that it will be somewhat of a recovery ride from the day before. Although still in the hills the ramps were easier and soon everyone was ready for a coffee or some lunch before a final short leg back to the YHA and the return home by car or train.
Back home and unloading the final items from the car the weather turned. Clouds had rolled in, gone were the blue skies and sunshine from the previous three days. Rain, now that's timing!
Highlights or Lowlights [you decide]
21 happy, smiling & tired cyclists come Sunday afternoon
9 OP's who had never been on an away-weekend enjoying the experience
Representation from all our ride levels
In the region of 150 miles; 14,900 feet & 12+ hours cycling
Mark Wayt's steady Saturday back marking of the standard ride
Dave Thompson's knee length socks
Amit Bhowmick's wallet disappearing trick
Janet Lock's QOM on the B*****d climb out of Wooten Fitzpaine. With Polly Perkins and Wendy Reakes. OP' occupy 1, 2 & 10 on this one!
Julia Waddington, in her excitement, forgetting she was still clipped in
The derelict pub for the lunch stop! Followed by the one that called the chef back.
Martyn Kimberley taking care of the advanced and getting to the top of everything, including the queue, first.
Gary Hudson and his contribution to the farmer's slurry pit
The sunshine which stayed all weekend
Steve R.
A further thank you too….. For this I have copied a comment straight from the OP forum.
"I know I speak on behalf of us all….a massive thank you to the organisers of the OP Beer Weekend. "You did us all proud!" To the location finder, routes organiser and garmin planner, the accommodation booking, meal planners. Those who led the rides, those who waited on the corners / top of hills, those who made us laugh….the hills that made us cry! Those who moved people, bags and bikes. To every one of you, it wouldn't have been so good without ya!! Cheers Guys and Girls."
To Wrap-up, What's Next??

The feedback from everybody was without exception really positive and gets one thinking about next year. Whilst 21 attended this year, the club has over 130 members. That's potentially 130 ideas and offers to help organise things. Please get in touch with the committee [ info@oakleypedalers.co.uk ] and let's have your ideas for an away weekend, with enough notice Friday to Monday would be possible which would perhaps allow for a ride from A to B. Or perhaps a venture further afield could be arranged. There will be no shortage of people around to help make it happen. Let's aim to have the 2016 away weekend bigger and better. Well why not?